Posted by Laurie Hall on
You've  done it, haven't we all? That time you set your intention at the start of your meditation. You're going to stay focused and not let your mind wander. Then, suddenly, out of no where you find your mind has drifted away to what you are making for dinner tonight. You observe your random thought and let it go. It floats away like a puffy cloud. That worked, but there's a powerful tool in our meditation shed, it's the sacred Sanskrit mantra 
So Hum
. If you are new to yoga or meditation, So Hum can be of special benefit to you. Practicing this mantra will enable you to quiet your mind much faster.  Let's explore this tool for quieting the mind and achieving the most out of our yoga practice.
Posted by Laurie Hall on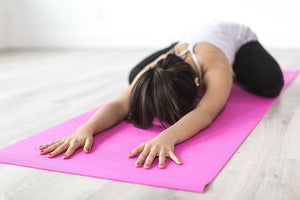 All my friends and family know I'm hooked on Yin Yoga. If you haven't heard of Yin Yoga, it's a style of yoga that is slow paced where you hold poses (asanas) for 3-5 minutes. The poses focus mainly on the yin meridians, although they can affect yang meridians on a lower scale. We can think of meridians like a highway for chi, the flow of energy in our bodies. When there are blockages in our meridians, the highway has been blocked and imbalances occur in our energy flow. Blockages may come from stress, trauma, or unhealthy behavior (diets, lack...